CHECK OUT OUR RANGE OF JUMPSTARTERS
Jump starter power banks are designed to be an emergency solution for recharging your car battery in the case of an emergency when your car wont start due to the battery being drained for example when you leave your lights on all night or a devices plugged into the cigarette lighter adaptor drains your battery. The kits come complete with a set of jumper leads to connect directly to your battery and will jump start most car and 4wd's. These jump starter kits are becoming very popular with commuters as we all have at some stage drained a battery and have been left stranded waiting for help. With the jump starter simply pull it out switch it on and connect it to your battery and then you can simply restart your engine and your main battery will get enough of a jump to get it started.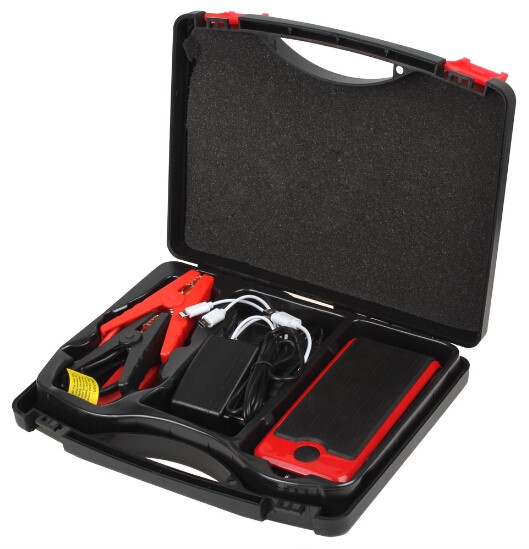 Why buy a jump starter Kit The reasons for buying a power bank jump starter kit are many and varied but lets start with the basics. These kits are designed with an inbuilt inverter to increase the amps from a small portable power bank up to a high output of 300 Amps or more which is needed to jump start a flat battery. As the power banks are very small the  jump starters are designed for giving power for a short period and should restart a car if the battery has run down from a radio being left on or if another device has drained a good battery. These jump starters are not designed as a replacement for a dead battery and if your battery is dead replace it and dont rely on a jump starter to start it every single time.
How it works The jump starters work by inverting the power from the power bank through the jump starter cable connector and increasing the output to a high amount of amps enough to give your car battery that little bit of power it needs to start and keeps itself going long enough so it will recharge itself.
What can I Jump Start The jump starters come in a few different sizes. Our 12000mah unit is ideal for cars and 4wd petrol engines and small diesel engines. If you drive a large diesel engine car or 4wd's then the 16000mah unit will be more suitable as diesel engines require a higher cranking output than petrol engines. These kits are a great emergency pack to keep on hand in any car or vehicle for emergencies and can be easily stored away under a seat or in a glove box. You can never be 100 percent sure your battery will not drain on you in an environment where there is no help. Keeping one of these on hand may just save you a lot of hassle.
What Can I Charge These power banks are not just for jump starting cars they can also recharge any devices that use USB to recharge like mobile phones and tablets. Our jump starter power banks can also charge some laptops as they are multi voltage and can be set anywhere from 5v to 19v on the dc output included on the power bank. This ability to be able to not just jump start cars but also recharge most digital devices make these packs a great addition to any emergency or survival kit where you may need your phone to signal for help. We include several charging cables for popular phone and tablets and you can also use your own charging cables directly into the power bank for recharging.
In The Kit All our kits come supplied in a carry case to keep all the accessories together. In the carry case you get the power bank and also a set of jump leads that connects to a car battery , and several leads and connectors to charge popular phones tablets and also some computers. The kit also includes a 12v cigarette lighter charger and 240v wall charger to keep the power bank charged when you have used power from it.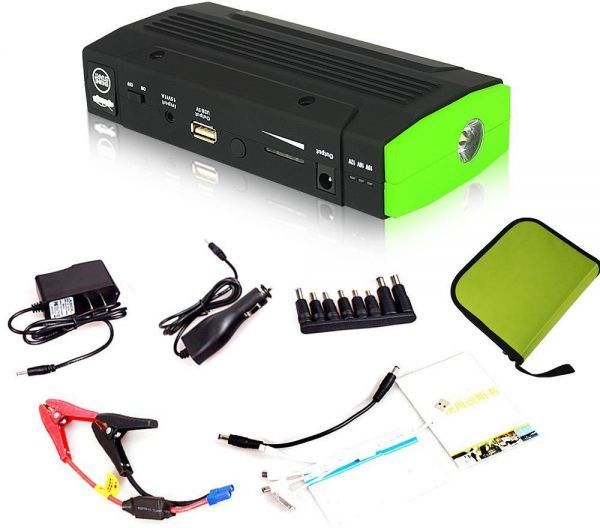 Warranty All our power banks including jump starters kits come with a full 2 year Australian warranty and are serviced or repaired in Australia.