Your brand is not merely what sets you out from the others but it is also a promise and a set of expectations that others associate with you. These expectations might be: excellence, classic,  fun, professional, sharp, new, bright, different…As your brand grows, you want it to be seen and remembered. Again. And again.
At Aus Power Banks we offer your purchased items to be branded with your logo so your customers will recognise who you are instantly. Every time they pick up their power bank, place it on the restaurant table (for others to see), use it on the train, and share it with others, it is successfully advertising  your product for you. Again. And again.
Please contact us, or leave a message in the comments box for a call back, if you would like logos and branding to be part of your corporate product marketing experience. If there is a power bank on our website you are interested in having your logo on please feel free to contact us at Aus Power Banks: 03 5277 3229 or info@auspowerbanks.com.au
Example branding options:
If you or your company need branding give us a call or drop us an email and we will get a product and design that best suits your needs. All of our power banks can have Logo design and bulk discounts apply for all corporate orders.
[table width ="100%" style ="table-striped table-bordered" responsive ="false"]
[table_head]
[th_column][/th_column]
[th_column][/th_column]
[th_column][/th_column]
[th_column][/th_column]
[th_column][/th_column]
[th_column][/th_column]
[/table_head]
[table_body]
[table_row]
[row_column]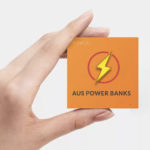 [/row_column]
[row_column]Polymer Power Bank – 2,600mah ultra slim[/row_column]
[row_column][/row_column]
[row_column][/row_column]
[row_column][/row_column]
[row_column][/row_column]
[/table_row]
[table_row]
[row_column]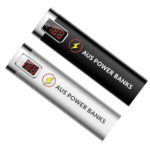 [/row_column]
[row_column]Power Bank 2,600mAh phone charger[/row_column]
[row_column][/row_column]
[row_column][/row_column]
[row_column][/row_column]
[row_column][/row_column]
[/table_row]
[table_row]
[row_column]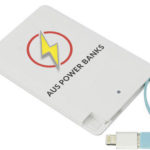 [/row_column]
[row_column]Polymer Power Bank – 2,600mah credit card size[/row_column]
[row_column][/row_column]
[row_column][/row_column]
[row_column][/row_column]
[row_column][/row_column]
[/table_row]
[/table_body]
[/table]
Get a tailored quote: