Phones have come along way in a short period of time. We went from having a seperate device for a camera, GPS or hard maps, portable speaker, walkman or mp3 player and of course a phone, now days they are one in the same, With all these seperate devices coming together into one easy package has not only simplified they way we use all these devices but has created a whole lot more in the process. You can leave everything at home and just take your phone these days you can get anywhere, work anywhere and pay for anything just by simply using your phone. So if you're someone that when your phone goes flat you feel lost and disconnected to the world don't worry we have the solution for you.
Phone battery cases are the ultimate in wirelessly charging your phone. Charge your phone on the go where ever you are, all you have to do is push down on the button at the back for 3 seconds and away you go. But wait theres more not only will this case charge your phone 1-2 times it is also a protective case, no longer carrying around you phone with a case and a power bank this battery phone case has it all in one. We have cases to suit all iPhones from 6 up to the new X and Samsung Galaxy s7 up to s8's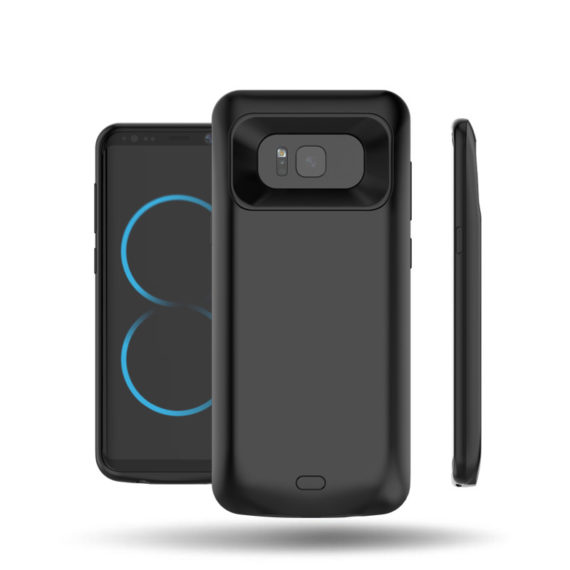 Best ways to use.
Everyday Use- You can use it as an everyday case that you would use just like any other case, by keeping it on all day and night and just charging it up at night and using that battery during the day. For example you can charge your phone and case while you sleep the case is a smart case meaning when it is plugged into the wall it will allow you phone to charge first then after it will charge the same meaning if you have to go your phone will be charged even if your case is not. So then during the day if you burn through power on your phone you can fully charge it without having to plug it in anywhere or bring any cables with you. Or if your like me and continually forget to charge your phone these are a great idea to get yourself out of trouble. Another way in which you might want to use it and will work better if you have better battery life in your phone as is you can charge everything up then just use the phone and case until both are flat (I have got about 3 days out of my phone and case combined) before charging both up again.
Camping/Holiday- When i go away i love to remember what i am doing by taking great photos on my smart phone. These days you do not really need to take anything else unless you are more into photography. Also i find myself grabbing my phone to see where i am on maps and what there might be around me and to arrange transport to get there. So by having a battery phone case on my phone all the time means that i never run out of power so i can at least find my way home. These battery cases are great for camping or trips away where you're access to power might be intimated where you might not be sure when your next charge might be. You can last for days with a fully charged phone and battery phone case providing your settings are right. There is nothing worse than being stranded somewhere foreign with no way to get out or missing that great snap because you phone has died, these battery cases are a way to cancel or at least minimise that happening
Emergency – Another great use for these battery phone cases are for emergency uses i did touch on it earlier regards to being on holidays, but what if you are home there are still emergencies that can arise where a flat phone battery will not be helpful one bit. Imagine you are driving down a highway and your car stops because
of a flat battery and your phone is getting low also. Because of that flat car battery you would not be able to charge your phone to make a call to road side assistance. Another example is that you have been out all night lost all your friends and have no way home if you had a flat phone you would find it increasingly difficult to find a ride and you might not feel comfortable walking the streets. These are just a few of countless emergency situations where if your phone battery is flat it could make a bad situation much worse. A great idea that i like to do is almost have two cases just in "case", one in the car just in the glove box because you never know when it might come in handy and usually one just on or around where i charge my phone.
There are so many other reasons to grab yourself one of these battery cases than just the ones mentioned above. If you're out there off the grid for a few days travelling around, stuck on the side of the road or in the middle of the city with no power on your phone this is the perfect solution for you.