Here we have a must have emergency jumpstart kit for any car out there. Although it looks quite small it packs a large punch which is exactly what you need if your stuck in a remote area or there is just no one around with jumper leads. If you are an outdoor enthusiast or simply somebody that likes to be prepared this is a must have item to have stored under your car seat.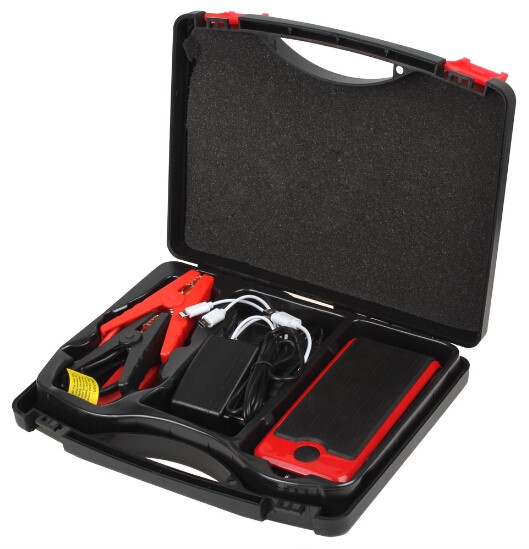 Alright so in this kit you get a few really handy features. Firstly the jumpstart unit itself which is nice and small high capacity battery when fully charged will give out a helpful 200A with a peak of 400A to get your car going again. So it's night time and its a bit hard to see the terminals on you battery thats no longer a problem this unit has a built in LED flashlight which will give you enough light to see exactly what your doing that also has an sos mode if you need to attract some attention.
On the side of the unit you will see five led indicator lights that will give you a remaining battery charge read out once you press the power button once. On either side of the battery indicator you will also see two usb charging ports that can charge two devices at one time this makes this device extremely handy in any situation so ideal for phone or tablets or any USB rechargeable device.
Inside the plastic carry case you will find one jump starter unit a set of jumper leads one wall charger and car charger and one multi phone charging cable to suit android and iphones old and new.